Previous editions
Find here all the results of the previous editions: 2022, 2021, 2020
2022 Edition
The third edition took place from March 14 to 19, 2022. The launch will be in French and English, the site has been translated to make it more accessible to non-French speakers and we have integrated the CyberCleanUp Materials to encourage reuse and recycling of WEEE.
All over the world, thousands of citizens have been invited to clean up their digital data and give equipment a second life
In 2022, more than 430,000 people were made aware through 1,692 CyberCleanups organized with 1,927 TB of data deleted, 2,298 digital devices collected to be reused and 5,472 kg of WEEE collected to be recycled
A look back at this third edition. Read the article to learn more. (French)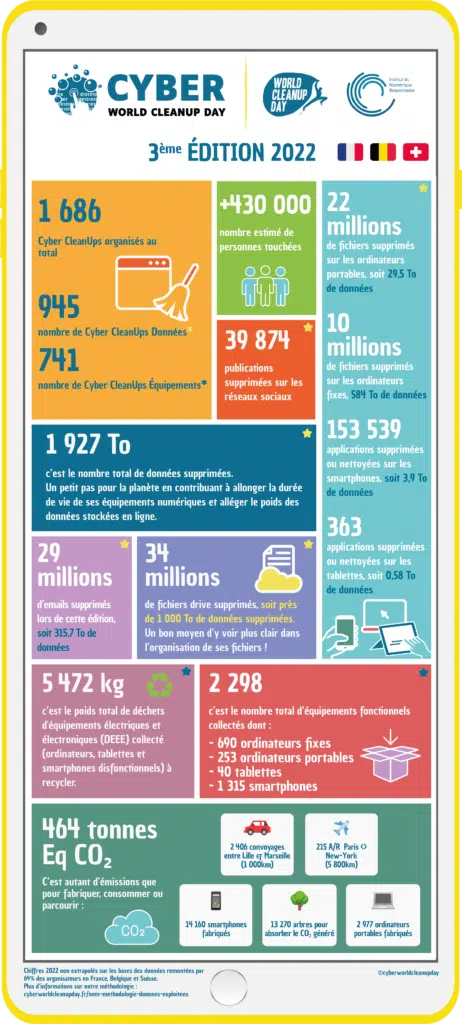 Discover the note of the methodology & the used data for the summary analysis of the 2022 edition
2021 Edition
The second edition took place from March 15 to 20. We have improved the first edition with an eco-designed site and an overhaul of the documentation. We have also taken some initiatives from the first edition such as the cleaning of social networks"
Across France and in some countries around the world, thousands of citizens have been invited to clean up their digital data: feedback on this second edition.
In 2021, 479 registered organizers organized 500 CyberCleanUps, sensitized 38,000 participants (figures reported by the organizers not extrapolated) and 58 TB deleted. 13 ambassadors promoted the project on their territory
Some organizers will take the initiative to collect WEEE as part of their data cleaning operation
France will carry out more than 50% of the data deleted on the global edition of the project led by Let's Do It World Association
France will be rewarded in January 2022 during the annual conference Let's Do It World Association for pioneering this program.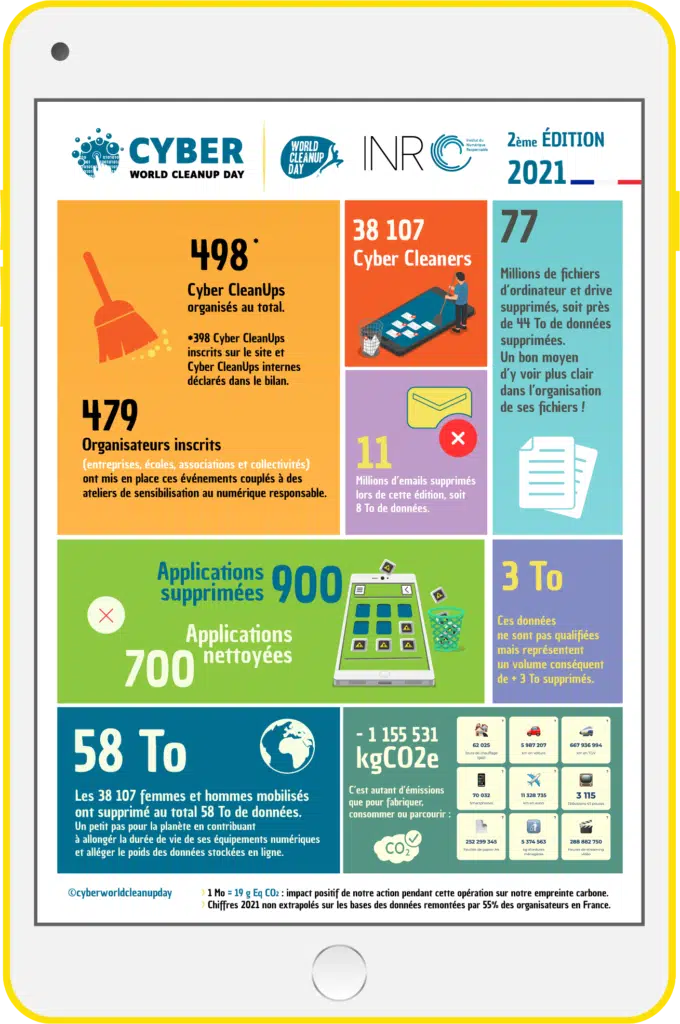 2020 Edition
The first edition took place from September 16 to 20. It's the world premiere! While the World Cleanup Day is mobilized on the cleaning of waste in nature. The Cyber World Cleanup Day invites Companies, Citizens, Citizens, Schools , Communities, Associations,... to clean their data.
It brought together more than a hundred organizers who mobilized to organize more than 150 Cleanup operations across France and raise awareness among more than 6,500 people.
Some organizers are already taking ownership of the project and taking initiatives such as cleaning up Facebook